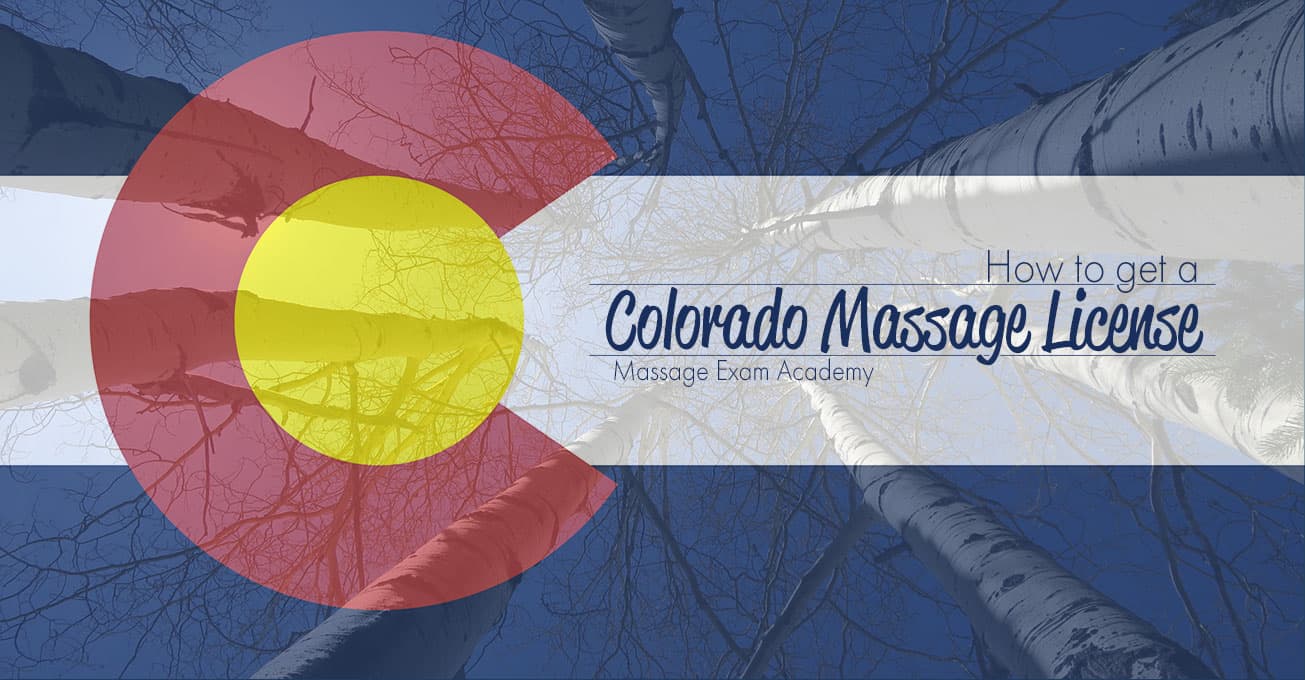 Colorado is a natural draw for many active and health-conscious massage therapists looking for the abundance of recreation and balance of access to nature and city life.
The massage profession is attractive to many current residents in the state because the job allows flexibility while being able to help others with mind and body wellness.
The irony of wanting to help people relax is that obtaining a massage therapy license can be stressful.
Whether you have been a massage therapist for years and are in the process of relocating, or searching for a massage school in Colorado, I am going to walk you through the entire process to help take the stress out of this journey.
Meet DORA, Not the Explorer
When researching a Colorado massage license, you will see DORA everywhere. DORA is the Department of Regulatory Agencies in Colorado. They help regulate everything, from boxing officials to medical physicians in the state.
DORA is divided into a few divisions, like the Division of Professions and Occupations. The mission of the Division of Professions and Occupations is "public protection through effective licensure and enforcement." It is within the Division of Professions and Occupations where you will find many health professional boards, such as the Board of Massage Therapy.
The Board of Massage was created through an act of the legislature, giving them the power to make rules about massage in the state. The goal of these laws and rules is to ensure the public has access to qualified, competent, and ethical massage therapists.
I know you do not want to read the laws and rules now, so let's keep going and I will keep going and cover some of the highlights and requirements. (Laws and Rules links here)
Colorado Massage License Requirements
#1. You need to be 18
Pretty self-explanatory here.
#2. Complete Massage Training At An Approved School
The basic requirement for massage training is completion of an approved massage program of at least 500 hours.
If you are looking for a school, the board site does not have a list of approved schools. Instead, you will need to make sure the program meets the requirements below for "approved massage school."
If you are still looking for, or graduated from a Colorado school, you can skip to requirement #3.
If you are moving to Colorado and have completed massage training elsewhere, we need to cover a few extra steps before getting to the exam requirement.
Out-of-State Education, or Endorsement
Candidates with out-of-state education are often referred to as endorsement candidates.
Acceptable education for endorsement candidates includes "a massage therapy program at a school located in another state or territory of the United States if the school was approved by that state or territory's community college system or educational regulatory body at the time the applicant completed the program."
You will need to obtain a transcript from your school, even if it is closed.
Foreign Trained Applicants
If you did not go to school in the United States, you will need to submit your qualifications, credentials, and work experience to one of the following credentialing agencies for review:
A credentialing agency approved by the Director
Prove You Are Active in the Profession
If you are applying by endorsement, you need documentation that shows you are active in the profession. There are two ways to do that.
1. Based on Practice
To complete this step, have your employer fill out this form verifying "a minimum of 400 hours of practice during a 12-month period in the two years immediately preceding receipt of your application for massage therapist licensure."
Submit this form with your online application for licensure.
What if you are self-employed or cannot complete the last step? There is a second option…
2. Show completion certificates of at least 24 hours of continuing education in the past 2 years.
A checklist Colorado provides indicates you will need to upload the certificates during the application process.
List and Verify Your Other Licenses
If you have been licensed in another state, or states, you will need to provide verification of each license.
You can provide a scanned copy verification from the other state or jurisdiction website. This scan must indicate whether or not you have ever had disciplinary action taken against that license.
If you are unable to upload verification, you can have the other state or jurisdiction send verification directly to:
Office of Licensing
Attn: MT Licensure
Colorado Department of Regulatory Agencies
Division of Professions and Occupations
1560 Broadway, Suite 1350
Denver, CO 80202
A copy of your license will not be accepted for this step.
Here is a short video to help clarify this step:
#3. Pass A Colorado Board Approved Exam
All applicants must show completion of a board-approved exam, even if you were grandfathered in a previous state without taking an exam.
Accepted exams include the MBLEx, NCETM/NCETMB, and "another examination applicable to the practice of massage therapy, as approved by the Director."
Although I cannot say this for certain, I assume this pertains to the few state exams (Ohio, Hawaii, New York), and possibly even the newer BCETMB. If you have taken a massage licensing exam other than the MBLEx or NCETM/NCETMB, contact the board office for further instruction.
If you have previously taken the MBLEx or NCETM/NCETMB for another state license, you will only need to fill out a mobility/score request form to have those scores sent to the Colorado Board of Massage.
MBLEx Takers
Here is the FSMTB's Mobility Form. The fee is $20.
NCETMB Takers
This exam is no longer given but previous scores, even if your certification has expired, can be used. Exam scores do not expire. You need to pay score request fee of $25.
You will need to login to your account at ncbtmb.org to access the score request form. If you do not have or remember your login information, you can contact the NCBTMB in the following ways:
Email: info@ncbtmb.org
Phone: 1-800-296-0664
Live Chat is also available during normal business hours: Monday through Friday, 9am to 5pm CST
Not Taken an Exam Yet?
If you have not taken a board approved exam, you will need to take the MBLEx. The MBLEx is currently the only licensing exam for massage therapy.
You should pass the MBLEx before having your fingerprints taken.
Need to Study for the MBLEx?
Massage Exam Academy offers unlimited practice exams to help you pass the MBLEx.
#4. Get Fingerprinted
More and more states are requiring all health care professionals to undergo a background check.
All applicants must submit fingerprints to the Colorado Bureau of Investigation (CBI) for a state and national background check.
You cannot use a previous background check from other states or licenses.
The results of your background check from CBI are only available to the Office of Licensing for a period of 90 days after your application is received.
Because of the above time restrictions, you need to complete the massage therapy license application within one week of submitting your fingerprints to CBI.
More instructions for completing the fingerprinting requirement can be found here.
#5. Ready to Apply?
You will need to create an account with the Division of Professions and Occupations. You will then be able to access the massage therapy license application form. The cost of the application and licensing fee is $200.
There is a checklist to guide you through the application process.
Your application information will be saved in the system for 30 days. If you do not complete and submit your application within those 30 days, you will need to restart your application.
Once your application has been successfully submitted, it will be kept on file for one year from the date you submit it. This is typical of most states. If you do not complete the steps within that year, you will need to reapply (pay again and start over).
Usually, once all of your paperwork gets to the board, a license is automatically sent out to the address you provided.
Bump Period for New Applicants
All new applicants that have been issued a license within 120 days of the renewal expiration date (December 31st of even years) will be issued a license with the following cycle expiration date.
Other states call this "open renewal period." It is the time when all the currently licensed massage therapists can renew their licenses.
So if you are applying within 120 days of December 31st in an even year, you will not need to renew until the next renewal date (in two years), instead of getting your license and then needing to renew it almost immediately.
#6. Additional Items
Insurance Requirement
You are required to show proof of professional liability coverage. This includes coverage you most likely have purchased (AMTA or ABMP).
Social Security Number
A Social Security Number is required for all applicants.
Exceptions
Foreign nationals not physically present in the United States
Non-immigrants in the United States on student visas who do not have a Social Security Number

In this case, applicants must submit a signed Social Security Number Affidavit in lieu of a Social Security Number to show you are lawfully present in the United States or otherwise eligible to work here.
Healthcare Professions Profile Program
Through this program, public consumers can find information about a Colorado licensed health care provider. This includes disciplinary actions, restrictions or suspensions, criminal convictions, business interests, malpractice insurance settlements, among other information useful to the public.
It is your responsibility to keep your address and contact information current in the system.
License Renewal Requirements
Once you are licensed, you may wonder about future renewal requirements. Good news! You already have met the current continuing education requirements, as there are no CE's required for license renewal.
All Massage Therapist licenses expire on December 31 of even-numbered years. Active licenses not renewed by December 31, 2016 will remain active during an extended grace period that will end on March 31, 2017.
Licenses not renewed by March 31, 2017 will be expired. There will be no late fee charged for renewals submitted during the grace period of January 1, 2017 through March 31, 2017.
However, you still need to pay the renewal fee. The cost of renewal every two years is currently $179.
Other Questions?
Here is the contact information for the board office:
Office of Massage Therapy Licensure
1560 Broadway, Suite 1350
Denver, CO 80202
Phone: 303-894-7800 | Fax: 303-894-7764 | Email: dora_massagetherapists@state.co.us
You may also leave a question in the comments below, and I'd be happy to help in any way I can. Thanks!
---
Appendix: Colorado Laws and Rules
I know this is not the most exciting thing to read in the world, but I firmly believe every massage professional needs to keep up to date with the Laws and Rules in each state they hold a license. This means reading the Practice Acts and Laws and Rules.
I have seen too many massage professionals at disciplinary hearings claim they did not know the laws regarding massage therapy in their state. Please, don't be that massage therapist.
Colorado even keeps licensees up to date on changes through an email subscription. How to subscribe to email law and rules updates:
Provide your email address
Under "Agency" scroll down and choose: Division of Profession and Occupations – Massage Therapy License