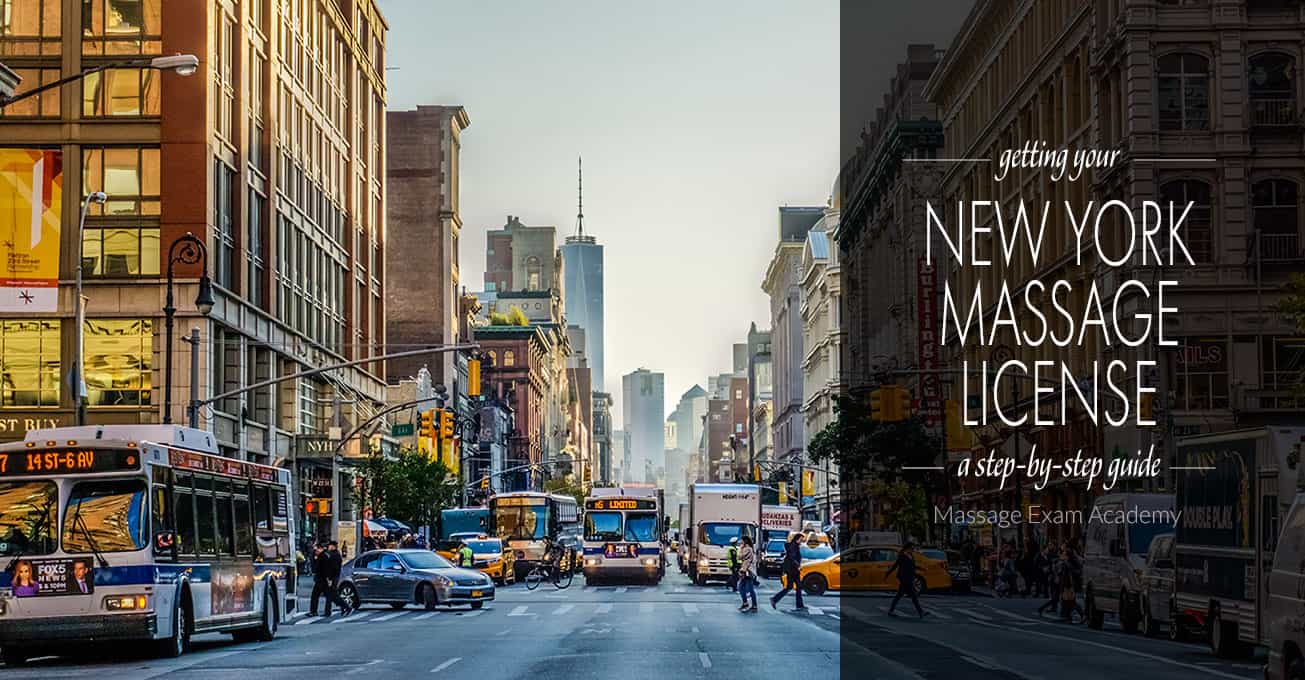 *Last Updated: 1/21*
Obtaining a massage license in any state can be a daunting task. It can be stressful sorting your way through government websites, laws and regulations when all you want to do is help other people relax.
You may have talked to other massage therapists who have made the task seem nearly impossible, or have given you misinformation. Maybe, while googling for answers, you saw this lady's 13 month ordeal to get licensed in the state. You may wonder if it is worth the hassle, hours of study, and money.
New York has a few unique requirements you need to be aware of before you begin school or move. We're going to go over the rules and requirements in an understandable way so that you know the steps needed to get your massage license (with the least amount of stress possible).
First, you likely fall into one of these two groups:
You are going to school in NYS or planning to go to school at an NYS approved massage school.
You are moving to NYS from another state and are/were licensed in another state or jurisdiction.
Whichever group you belong to, you still need to meet the requirements for obtaining a New York license.
There are four basic requirements to obtain a New York Massage License:
Meet the state minimum education requirement
Successfully complete a CPR course
Prove English proficiency (if needed)
Now let's go more in-depth into each requirement.
1. Meet the State Minimum Education Requirements
The first thing, and biggest task, is to meet the state education requirement. In New York, the minimum education requirement is 1000 hours.
Going to Massage Training In NYS
This mostly applies to people the first group of people I discussed earlier, those that went/or plan to go to school in NYS. New York Massage schools are required to have programs that meet the 1000-hour requirement.
If you are considering a career in massage and looking for a massage school, here is a list of massage training programs in New York where you can complete your 1000 hours.
If you are currently in a New York school and ready to take on the next step – your exam, you can skip this next part and move on to the exam requirement. (Jump to Exam Section)
Out of State Applicants
Now for those that did not attend massage school in NYS, are currently licensed or practicing in another state or jurisdiction, and are looking to get a license by endorsement or experience.
This is where things get complicated.
You likely have seen the 1000 hour requirement and automatically assumed you do not qualify for a license. However, New York has a few other ways you may qualify.
Can you answer "Yes" to this?
I have passed a written examination that was required for massage therapy licensure in the jurisdiction where I am licensed which is satisfactory to the State Board for Massage Therapy and acceptable to the department, such as the NCETMB prior to February 2015 or the MBLEx.
AND "Yes" to ONE of the below?
I have practiced as a licensed massage therapist for the past 2-4 years and can document the equivalent of at least 2 years of post-licensure professional experience and 1,000 clock hours of education, as acceptable to the department.

Or

I have practiced as a licensed massage therapist for the past 5 or more years and can document the equivalent of at least 5 years of post-licensure professional experience and 800 clock hours of education, as acceptable to the department.

Actually, you should just read over the section "Applicants Licensed in Another Jurisdiction" on the board website, because there are a few more options.
*One year of experience is defined as 52 weeks in which massage therapy is practiced an average of 12 hours each week.
Contact the NYS Board of Massage
If you have not met these requirements, you need to contact the board to see what you need to do next.
Since I am not the board of massage, I cannot determine if your education is "acceptable to the department," but I can help you take the next steps to find out. The New York Board provides contact information to ask if you qualify for a license endorsement.
Some people get nervous about emailing or calling a board office. You may not know who or what to ask. This is what I suggest you provide in your email, or be ready to answer on the phone:
Your massage training education (Clock hours)
Exam completions
Active massage licenses
Post-licensure experience – How much you have worked
CPR status
Other education experience or licensure (nursing, other degrees)
Here is How to Contact the Board
Email: msthbd@nysed.gov
Phone: 518-474-3817 ext. 150
If you find you are eligible licensure by endorsement, you can move on to applying for your license.
If you meet all the requirements, except for the exam, you may be eligible for a limited permit.
Limited permit
If NYS says you need to take their exam to get a license, you may be eligible for a limited permit while you wait for the next exam date. A limited permit fee is $35.
The permit is valid for one year, or until the results of the first examination for which you are eligible are made known, whichever comes first.
You must work under the personal, on-site supervision of an individual licensed and currently registered to practice massage therapy in New York State.
Although it is not ideal, a limited permit does allow you to temporarily work legally in NYS.
2. Pass the New York State Massage Exam
Like I previously mentioned, New York is one of the few remaining states to have its own state massage board exam, in lieu of using the MBLEx as an entry-level licensing exam. Taking the NYS exam is the last big hurdle for massage therapists before getting licensed.
Here is everything you need to know about taking the exam.
2021 Exam Dates and Deadlines
Unlike the MBLEx, which is given around the US on a daily basis, the New York massage exam is only given twice a year and each has an application deadline.
| Exam Date | Application Deadline |
| --- | --- |
| January | November |
| August | June |
Exam Location and Proctor
The New York exam is based on the Massage Therapy Job Analysis conducted in 2000 (by the New York Massage Board). Exams are proctored by Scantron Assessment (formerly Castle Worldwide) and their test centers around the country and worldwide.
Exam Fees:

New applicant, $260
Re-admit (previous failed exam), $260
You can mail exam application and exam fees to:
Scantron Assessment
Attn: NY Exams
PO Box 570
Morrisville, NC 27560
If you need to contact Scantron Assessment
Phone: 800-655-4845 or 919-572-6880
E-mail: candidatesupport@scantron.com
Website: Scantron.com
Exam Format Details
This is a paper and pencil, closed book exam. No computer knowledge necessary.
There will be 140 multiple choice questions.
You will have three hours to complete the exam.
According to the New York Board Rules (78.2 Licensing examination), the exam passing score is 75%.
Receiving Your Results
Castle will mail your examination results and will be released only to the registered candidate by mail. Results will not be given to candidates over the phone. If you haven't received your results after three months, contact Castle Worldwide at 800-655-4845.
Need a study guide that's actually created for the NYS Massage Exam?
New York State Massage Therapy Examination Blueprint or Outline
Exam Sections
Assessment & Evaluation (14% of examination – 20 questions)
Development of a Treatment Plan (29% of examination – 40 questions)
Application of Treatment Skills (51% of examination – 72 questions)
Professional Responsibilities, Business Practice and Professional Ethics (6% of examination – 8 questions)
Here is a more detailed look at how these sections breakdown:
Assessment & Evaluation
This section makes up 14%, or 20 questions, of the exam.
Intake Interview – Determination of nature and degree of presenting condition
Physical Examination – Evaluation of clients for treatment; gathering information about client's condition; identification of signs and symptoms; understanding medical history and presented diagnosis; assessment of general condition; assessment of energy imbalances using five element theory, eight principles, points and channels/meridians, organ theory
Performance of passive, active, and resisted movements – to discover contractures, evaluate flexibility, range of motion, muscle strength, areas of pain, etc. Use of palpation to assess overall condition, including discovery and location of abnormalities, spasm, tension, injury, adhesions, etc.
Definition of scope of treatment – Communication of expectations of treatment process; communication with primary health care provider; engagement of patient participation in treatment process; referral of patient to other health care provider when necessary
Development of a Treatment Plan
This section makes up 29%, or 40 questions, of the exam.
Establishment of goals of treatment from definition of scope of treatment
Use of areas of knowledge, including anatomy, physiology, and pathology in exploring client's condition
Anatomy and Physiology: Includes knowledge of location, structures, and functions of skin-integumentary, muscular (incl. origins, insertions, and actions), nervous (incl. sympathetic, parasympathetic, autonomic), lymphatic, circulatory, immune, digestive, respiratory, skeletal, endocrine, urinary, and reproductive systems.
Selection of appropriate modes of treatment; re-evaluation of initial treatment plan
Application of Treatment Skills
This section makes up 51%, or 72 questions, of the exam.
Preparation of self, patient (incl. draping), treatment room, positional supports
Application of Massage Therapy techniques – Including, but not limited to, effleurage, friction, petrissage, vibration, rocking, trigger point therapy, connective tissue therapy, tapotement, joint manipulations, range of motion, polarity, reflexology, energy techniques, myofascial release, etc.
Also Shiatsu and other Eastern techniques focusing on treatment of points, channels/meridians, organ theory, tonification, and dispersal
Application of accessory therapeutic techniques – Including, but not limited to, use of heat, cold, and other appropriate applications to the body
Treatment of clients affected by specific conditions, disorders, and diseases – Including, but not limited to, treatment of muscular, nerve, ligament, disc, and bone damage due to strain, injury, repetitive motion, etc.; treatment of muscle atrophy, flaccidity, pain, swelling, inflammation, spasm, tendinitis, circulatory problems, and congestion; separation of adhesions, induction of local hyperemia, promotion of lymph drainage, sedation or stimulation of nerves, etc.
Diseases (this list is not exhaustive): osteoporosis, forms of arthritis, autoimmune diseases, respiratory diseases, Parkinson's, HIV+/AIDS, cancer, diabetes, MS, stroke, skin diseases, heart disease, and others
Patient education – esp. exercise, behavior modification to alleviate symptoms/conditions
Professional Responsibilities, Business Practice and Professional Ethics
This section makes up 6%, or 8 questions, of the exam.
Scope of Practice, esp. knowledge of New York State laws and regulations governing practice of Massage Therapy; terms of licensure, registration, advertisement, etc.
Client-record keeping, incl. completeness, retention, privacy of records, etc.
Safety and First Aid
Knowledge of Eastern Methods
This is not a separate exam section, rather there will be 20 questions throughout the exam that include the subject of Eastern methods (Meridians, Asian theory, Ayurveda, etc) in some way.
3. Successfully Complete a CPR Course
You must show proof of completing a course in Cardiopulmonary Resuscitation (CPR) within three years prior to licensure.
Finding a CPR course is not difficult. Here are a few places to look:
4. Submit Evidence of English Proficiency (If Applicable)
If you obtained your massage education in a country where English is not the principal spoken language, you will need to show evidence of English proficiency. (Section 59.3 of the Commissioner's Regulations)
Two of the most common ways to complete this if your education was in a country where English is not the principal language spoken is to:
Provide a passing score from a standardized test of English, such as the Test of English as a Foreign Language (TOEFL) or equivalent.
Provide a passing score from a written professional licensing examination given in English, such as the New York State Exam, MBLEx or NCETMB.
Still interesting in getting a New York massage license?
If yes, you are ready to take the next steps to get licensed! Here is a recap of the important links and resources to help you get started.
Review the NYS requirements to see if you qualify by endorsement
Apply for a license

The application needs to be notarized
Include the fee for licensure and first registration ($108)

Study for your exam
Have a question about a New York massage license that I did not discuss? Have a tip or some info I missed? Let me know in the comments below!
Thanks,
Ivy
Photo Credit: Jeff Turner (Adapted)