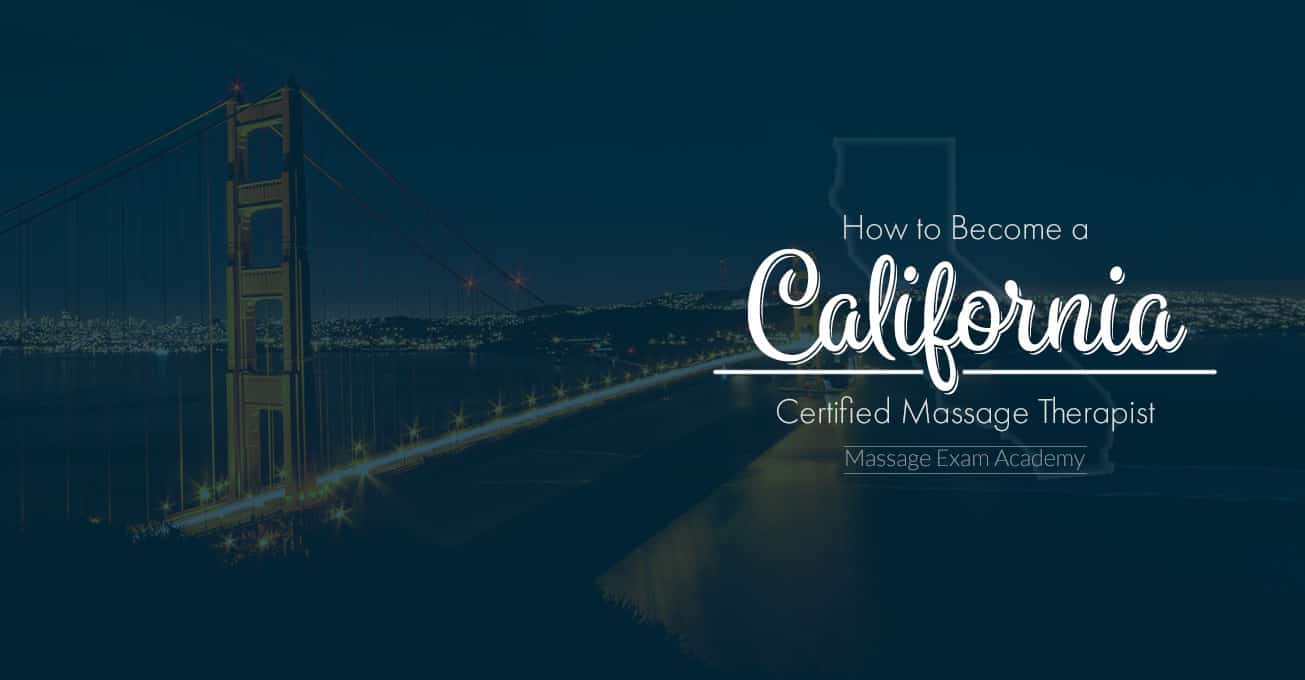 Looking for information to obtain a massage license, or get certified, in California?
Legally working as a massage therapist in California is different than any other state. Whether you are a current massage therapist moving to California, or a resident looking for a massage program, sorting through regulations can be challenging and time-consuming.
I am going to cover the current regulations in California and break down the requirements into simple steps. Soon, you will know everything you need to do, or not do, in order to work as a massage professional in the state.
Licensing vs Certification
The first thing we need to cover is…
California does not license massage therapists, instead it certifies qualified massage therapists.
What's the difference?
Certification and licensing are not interchangeable terms. It is very important to know the difference between the two before you start the certification process.
Licensing
Licensing is a non-voluntary, or mandatory, requirement. A government agency (board or department) regulates the profession. Passage of a massage licensing law or act makes it illegal for anyone to engage in that occupation within without a license. Over 40 states issue massage therapy licenses.
Certification
According to the American Massage Therapy Association:
"Professional certification is a voluntary process by which a non-governmental professional organization grants recognition to an individual who has met certain qualifications."
Certification in California is voluntary, like the NCTMB/BCTMB certification. This certification has intended benefits for the public and massage profession in California, which I will discuss in a moment.
Certification in California is obtained through CAMTC, short for California Massage Therapy Council.
What is CAMTC?
CAMTC is not a state board. However, it was created by the California legislature and began taking applications for massage certification in 2009. CAMTC is a private non-profit corporation.
The CAMTC Board of Directors, like other state massage boards, are volunteers. Each volunteer is appointed by California cities, counties, law enforcement, massage schools, the Department of Consumer Affairs, and professional massage associations. For state massage boards, members are often appointed by the governor.
What does CAMTC do?
Allows Portability
Before CAMTC was created, California massage professionals were often required to obtain a city/ county license or permit in every city they practiced. Mobile massage licenses could be pricey and complicated to keep straight. Or if a therapist worked in one city and got a job in a neighboring city, a new license was required.
CAMTC certification allows massage professionals to provide services anywhere in the State of California for one price, $150. There is no need to obtain multiple local permits.
Public Protection
Massage regulations exist to protect the public, since getting a massage by an untrained therapist can be potentially dangerous. Certified therapists must meet certain educational and examination requirements, as well as undergo background checks.
You can verify a certified massage therapist on CAMTC's website.
Protects the CMT title
CAMTC protects the professional title, Certified Massage Therapist (CMT), and Certified Massage Practitioner (CMP). Only CAMTC certified therapists can use this title in their advertising.
What's the difference between a CMP and CMT?
Previously, there were two certification levels, Certified Massage Practitioners and Certified Massage Therapists. CMT's had more stringent requirements (500 hours or 250 hours and completion of an approved exam). Now, California only certifies CMT's.
Previously certified CMP's may only use the title "CMP" and can continue to recertify as a CMP, unless they pass the MBLEx and upgrade to CMT.
Certifying Schools
As of 2016, CAMTC began certifying California massage schools.
CAMTC does not:
Enforce labor laws (Independent Contractor vs Employee)
Regulate massage establishments
Is Certification Required?
I know even after reading all of this, you may be asking, "Do I have to get certified in California to practice massage?"
No. Remember is certification with CAMTC voluntary. Except when it isn't.
If you choose not to certify, you need to comply with your local requirements for massage therapists, which may require certification from CAMTC.
An Example
Let's say you choose not to certify, but move to Los Angeles. You will need to comply with the local massage regulations. It happens that Los Angeles city ordinance for massage establishments requires massage therapists have a CAMTC certification.
The city of Los Angeles Municipal Code defines a "Massage Therapist" as:

"A person who is certified as a "Massage Therapist" by the California Massage Therapy Council under Chapter 10.5 of the California Business and Professions Code" (link).
San Mateo County Municipal Code

5.44.030 – CAMTC certification and local registration required. (a) Individuals. On and after July 1, 2012, it shall be unlawful for any individual to practice massage therapy for compensation as a sole proprietorship or employee of a massage business or in any other capacity within the unincorporated areas of San Mateo County unless that individual is a certified massage practitioner. (Link)
As you can see, certification really does have benefits and is required in many areas of the state. Let's move on to the steps to getting certified by CAMTC.
Five Steps to California Massage Certification
Meet the age requirement.
Meet the educational requirements in the law.
Pass a CAMTC approved exam.***Not required after 1/1/2019
Complete a background check.
Complete applications and pay fee.
Let's break down each step.
Step 1: Meet Age Requirement
You must be 18 or older to be eligible for certification.
Step 2: Meet Educational Requirements
All applicants must successfully complete a minimum of 500 hours in massage and related subjects (or the credit unit equivalent).
Of the 500 hours, a minimum of 100 hours of instruction must include:
Anatomy and Physiology
Contraindications
Health and Hygiene
Business and Ethics
All of the 500 hours shall be from a CAMTC approved school program. The 500 hour requirement does not include online/ distance/ correspondence learning education.
Thinking of going to massage school in California?
Find a CAMTC Approved Program.
CAMTC's California Closed School Policy
Massage schools close all the time. For applications received after December 30, 2016, CAMTC will not accept any education from a California closed school unless that school:
had CAMTC School Approval at the time of closure and remains in good standing, or
that school closed and remains in good standing with a CAMTC Approved School as its official Custodian of Records.
Moving to the Golden State?
Domestic and Canadian Education
CAMTC requires education and training received outside of California be "at least" equivalent to the requirements applied to California school programs.
A good indication that your program will meet CAMTC's requirements is if your program has/had been approved by the national, regional, or state authority with "responsibility for vocational program approvals." CAMTC has methods to determine approval for every state, U.S. territory, and the Canadian provinces which register/license massage therapists (Ontario, British Columbia, Nova Scotia, and Newfoundland and Labrador).
CAMTC will require an officially sealed school transcript, directly from your approved educational institution, in order to evaluate if the program meets CAMTC minimum requirements.
Foreign Transcripts or Out of Country Education
One significant update happened in 2018, according to the CAMTC website, when CAMTC stated it would no longer be accept foreign/out-of-country education.
However, as of 2023, it appears the have made some changes to this statement. Here is more information for those with out of country massage education.
Step 3: Pass a CAMTC Approved Exam
This is not a requirement after 1/1/2019! You can read more about SB 1480, which was signed into law, here.
The CAMTC accepts the following exams:
Massage and Bodywork Licensing Exam (MBLEx)
Board Certification Exam in Therapeutic Massage and Bodywork (BCETMB)
National Certification Exam for Therapeutic Massage and Bodywork (NCETMB)
National Certification Exam for Therapeutic Massage (NCETM)
New York State Massage Therapy Examination
If you have passed one of the above exams previously in another state, you can fill out a mobility/ score request form from the NCETMB or FSMTB, pay a small fee ($20-25) to forward those scores to the CAMTC.
If you have not passed one of these exams, you will need to do so in order to get certified. The MBLEx is the most common entry-level exam used in other states.
The NCETMB and NCETM are no longer given. The BCETMB is not used by many other states for a licensing exam and has higher hour requirements than the MBLEx.
Need to Study for the MBLEx?
Massage Exam Academy offers unlimited practice exams to help you pass the MBLEx.
Step 4: Complete a Background Check via Live Scan
I have previously used Live Scan fingerprinting for one of my state massage licenses (Florida). Here are some tips:
Your Live Scan print must be done in California. This differs from most other states' fingerprinting requirements.
You cannot re-use prints taken for previous licenses in other states.
The cost of a fingerprinting and background check ranges from $60 to $100.
Here is a list of approved California Live Scan provider locations.
NOTE from CAMTC: Local Police and Sheriff stations may be more experienced in securing legible fingerprints from massage professionals with thin or worn ridges in the pattern area. When Florida enacted its fingerprinting requirement the above problem was a real struggle for massage therapists. Many had to complete their prints multiple times.
Fingerprinting Steps
CAMTC applicants must complete and submit a Massage Therapist Request for Live Scan Service form.
Make two (2) photocopies of the Massage Therapist form after filling it out.
Choose a local Live Scan Vendor from the DOJ list.
Get prints completed at that location. Bring:

Completed live scan service forms (all 3 copies)
2 forms of ID (Driver's license)
Payment for service

The Live Scan service provider will fill out the section at the bottom of the page and keep the original.

Submit one completed copy of the Live Scan Request form to CAMTC. The other copy is for your records.

You can fax this information to 916-669-5337, or
Submit by mail:

CAMTC
1 Capitol Mall
Suite 800
Sacramento, CA 95814

It typically takes 72 hours for results to get to CAMTC from the DOJ.
Step 5: Complete Application and Pay Fees
Here is the CAMTC Application Link. The fee for the application and certification is $300. This will increased in 2023.
How long does the certification process take?
CAMTC states the process takes approximately ninety (90) days for complete applications that have no background or educational issues.
Once I am certified, do I need to recertify?
Yes. CAMTC certification is only for a two-year period. You must apply for recertification every two years.
There are no continuing education (CE) requirements required to recertify. The cost to recertify is $200 for two years. This will increased $50 in 2023.
If your certification has lapsed for more than six months, you will need to apply as a new applicant, including submitting new livescan fingerprints and meet the current educational standards and exam requirement.
The Future of Massage Regulation in California
It appears California is going to keep this voluntary model for the time being.
Gov. Jerry Brown on Sept. 22, 2016, extended the Massage Therapy Act, including CAMTC's voluntary certification program, for four more years (Assembly Bill 2194).
If you have any questions about becoming a Certified Massage Therapist in California, please let me know in the comments below. Thanks!
Photo Credit: Tim Pou (Adapted)